22nd February 2022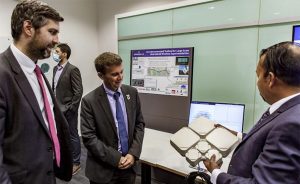 Up to £250,000 worth of funding is being made available to small to medium sized enterprises (SMEs) in South Gloucestershire, the South West region and the wider UK.
The funding will be distributed via grants to SMEs in the digital technology sector by South Gloucestershire Council through the UMBRELLA competition.
The competition, which opened to applications on Monday 21 February, is supporting SMEs to help them further develop innovative products that can make a real difference tackling issues facing the region.
The Council is looking for applications, products and services that use digital technology to help with issues such as improving biodiversity and the environment, achieving zero carbon targets in public buildings and using technology to support council services.
The competition is being funded by the UK Government through the UK Community Renewal Fund.
As well as financial support, successful SMEs will also receive technical support and be able to trial their products through the region's UMBRELLA network.
The network was launched last year and provides a digital platform for the testing of products and services in areas such as robotics and wireless communication, in a real-world environment.
UMBRELLA is one of the world's largest programmable testbeds, connecting South Gloucestershire's five innovation hubs: Bristol & Bath Science Park, National Composites Centre at Emersons Green, the University of the West of England, Bristol Robotics Lab, and Future Space.
The UMBRELLA competition is open for applications from Monday 21 February to Monday 14 March.
Once entries close all applications will be judged by a panel of industry experts including Professor Joseph McGeehan CBE from the University of Bristol, Thomas Clapton, Group Technology Development Manager at Babcock International Group, and Marc Funnell, Director of DETI (Digital Engineering, Technology and Innovation) at the National Composites Centre.
Cllr Toby Savage, Leader of South Gloucestershire Council, said: "South Gloucestershire is already renowned for innovation and pioneering work thanks to the likes of the Bristol & Bath Science Park, South Gloucestershire Tec Arc, Bristol Robotics Laboratory, the National Composite Centre, and the GKN Technology Centre to name a few.
"The launch of the UMBRELLA network was a world-first and created an impressive network that can accelerate collaboration between established businesses and innovation hubs.
"With the UMBRELLA competition we are reaching out to small and medium sized companies here in South Gloucestershire and further afield and inviting them to join this collaboration.
"We want to hear your ideas, learn about your products and services and provide opportunity for them to develop."