8th September 2022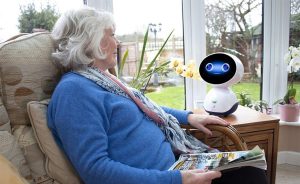 South Gloucestershire Council has awarded a further £125,000 in grants to businesses in the digital technology sector.
The money has been given to small and medium sized enterprises (SMEs) from across the country as part of the council's UMBRELLA competition to help them pilot their technologies and develop innovative products. The competition is being funded by the UK Government through the UK Community Renewal Fund.
As well as financial support, successful SMEs also receive technical support and will be able to trial their products through South Gloucestershire's UMBRELLA network. The network provides a digital platform for the testing of products and services in areas such as robotics and wireless communication, in a real-world environment.
Successful SMEs for phase two of the competition include:
Crover Limited
Diligensys
GenieConnect®
Ioetec Limited.
These companies will use the funding to look at an array of issues such as the social care crisis, cybersecurity and reducing the use of plastic.
UMBRELLA is one of the world's largest programmable 'Living Labs', connecting South Gloucestershire's five innovation hubs: Bristol & Bath Science Park, National Composites Centre at Emersons Green, the University of the West of England, Bristol Robotics Lab, and Future Space.
This is the second phase of the UMBRELLA competition. Earlier this year the council awarded a total of £125,000 to five companies to help them develop products and software tackling issues such as long-term health care, sustainable travel and energy efficiency in buildings.
Councillor Ben Burton, cabinet member responsible for corporate resources at South Gloucestershire Council, said: "Here in South Gloucestershire innovation is part of our heritage and it is a pleasure to be able to help encourage a new generation of research and development.
"The second phase of our UMBRELLA competition has brought forward a new tranche of pioneering work and we are proud to lend our support to these innovative SMEs."
GenieConnect®, who are based at Future Space at the University of the West of England in Frenchay, hope to help tackle the social care crisis and combat loneliness. The company is developing a care management portal and app which will enable older people and adults with learning disabilities to live independently and feel more connected. A spokesperson said: "We are delighted to be part of the UMRELLA project as it will allow us to extend our social care and companion robot service, GenieConnect®, to vulnerable users in rural areas and users who currently do not have WiFi or mobile broadband."
Ioetec Limited, from Sheffield, are cybersecurity experts who are developing technology that will ensure the integrity and authenticity of confidential data. CEO and co-founder Mark Davies said: "We are excited to extend our knowledge of the UMBRELLA platform and to work with South Gloucestershire Council to further develop and deploy our 'Excalibur' technology, to enhance trusted data delivery to improve efficiency and public services. As the digital transformation improves every aspect of our lives, it is crucial those devices that drive this innovation are kept secure, and any associated citizen data they generate is protected."
Edinburgh-based CROVER Ltd are developing the world's first granular drone, which can move itself through sand dunes or grain. The purpose of the equipment is to help with the monitoring and management of cereal grains stored in bulk. A spokesperson said: "We are honoured to be able to partner with the UMBRELLA network and to be able to work with them on improving the automation of the CROVER robot and system! #SavingGrains."
Diligensys, a SME in Middlesex, works in artificial intelligence and data analytics and is developing software that will help residential or commercial buildings achieve net zero energy status and another product that will monitor environmental conditions to improve crop harvests. A spokesperson said: "As an emerging SME, we are delighted by this opportunity to collaborate with UMBRELLA and South Gloucestershire Council. We look forward to delivering value to the local community by leveraging advanced technologies."
As part of phase two of the competition a special grant was also awarded to Bristol-based City to the Sea. The company has a vision to create a world where everyone connects their actions to our oceans. They hope to achieve this through the development of their refill app, which helps people live with less plastic. The app connects people to places they can eat, drink and shop without unnecessary packaging.
All of the winners from phases one and two of the UMBRELLA competition will be attending the South Gloucestershire Business Show in November where they will showcase their work.