22nd September 2022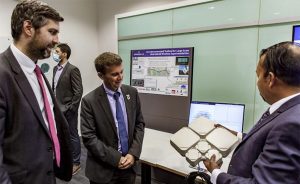 South Gloucestershire Council has been recognised for its commitment and investment in the country's digital future and handed a national award.
The council, along with technology partner Toshiba Europe Ltd, Bristol Research and Innovation Lab, has won Connected Britain's Industrial Innovation Award 2022 for the UMBRELLA network.
The Connected Britain Awards, announced this week (20 September), recognise the most significant and innovative organisations, solutions and programmes that are shaping Britain's digital future.
Launched in October 2021, the UMBRELLA network is a global first providing a digital platform for the testing of products and services in areas such as robotics and wireless communication, in a real-world environment.
UMBRELLA is one of the world's largest programmable Living Labs, connecting South Gloucestershire's five innovation hubs: Bristol & Bath Science Park, National Composites Centre at Emersons Green, the University of the West of England, Bristol Robotics Lab, and Future Space.
Councillor Toby Savage, Leader of South Gloucestershire Council, said: "We are incredibly pleased to win Connected Britain's Industrial Innovation Award for 2022.
"The UMBRELLA network was a global first and is providing digital and tech companies from all over the country the opportunity to test their products which will help to tackle some of our biggest issues such as long-term health care, energy efficiency, sustainable travel and social isolation.
"South Gloucestershire has a strong heritage in innovation and manufacturing, and we are proud that our continued commitment and investment in this area has been recognised with this award."
Professor Mahesh Sooriyabandara, Managing Director of Toshiba Europe Ltd, Bristol Research and Innovation Laboratory (BRIL), said: "The award is a testimony to the UMBRELLA team and partners for their creativity and hard work in realising a Universal Internet of Things Research & Development platform accessible to all.
"We are continuously evolving the UMBRELLA platform to rapidly develop and test technological solutions in the real world to urgent societal challenges. We invite innovative companies and communities to join us."
The UMBRELLA network was built using funding from the West of England Local Enterprise Partnership (LEP) Local Growth Fund which is administered by the West of England Combined Authority, and Toshiba Europe Ltd – Bristol Research Innovation Lab.