30th May 2022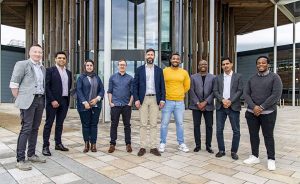 Grants totalling £125,000 are to be handed out to five small and medium sized businesses by South Gloucestershire Council.
The small and medium sized enterprises (SMEs) from the digital technology sector were selected through the council's recent UMBRELLA competition and are being awarded the funding to help them further develop innovative products that can make a real difference tackling today's societal challenges.
The successful businesses include:
Aware Technologies Limited
Altered Carbon
Tryambakam Digital
100 Percent IT Ltd
DIREK.
The competition is being funded by the UK Government through the UK Community Renewal Fund.
As well as financial support, the successful businesses also receive technical support and will be able to trial their products through the region's UMBRELLA network. The network provides a digital platform for the testing of products and services in areas such as robotics and wireless communication, in a real-world environment.
Councillor Toby Savage, Leader of South Gloucestershire Council, said: "It has been exciting to hear about the innovative products and services that are being developed in South Gloucestershire and further afield which will help tackle our current and future challenges.
"I am pleased that as a local authority we are continuing to build on our area's innovative heritage and are able to support this pioneering work. I look forward to learning more about these specialist projects and seeing how they develop."
Aware Technologies Limited, based at the Bristol & Bath Science Park, are developing a technology for landlords and tenants to help understand the causes of mould and damp and provide personalised advice on how to make homes warm, dry and energy efficient. The company's solution will use self-install sensors, edge intelligence and web-based visualisations.
Chief executive and founder, Leonard Carey, said: "We are excited to have been chosen to work with UMBRELLA and South Gloucestershire Council to explore a technology that has the potential to deliver so much value for residents.
"We are looking forward to working with the housing sector and contribute to solving a problem that could help society understand how to create good quality homes and accelerate our journey to net zero."
Altered Carbon, who are based at Future Space at the University of the West of England in Frenchay, are developing sensor technology. This technology will be capable of detecting complex mixtures of compounds, such as an infection or contamination as well as single gases. Being part of the UMBRELLA competition will enable them to field test sensors in a real-world environment.
Chief executive and founder, Ali Rohafza, said: "A big thank you to the UMBRELLA project for this opportunity, we are looking forward to testing our next generation sensors with UMBRELLA and partners, watch this space for some exciting developments to come."
Tryambakam Digital, also based at Future Space, are developing a Care Giver App, which will be a mobile application and centralised management dashboard aimed at improving the way care is provided for those that require long-term health assistance. The app will analyse and respond to environmental changes that effect quality of life.
Derron Wignal, from the company, said: "This is a fantastic opportunity to further our research and build real-world cases for care automation."
100 Percent IT Ltd, based in Newbury in Berkshire, is working to develop technology that will future-proof the security of data transmitted between vehicles and infrastructure, which will help enable the future of sustainable, connected transport.
Head of product Gareth Lockwood said: "We are excited to have our innovation potential recognised and look forward to future partnership opportunities with UMBRELLA to help accelerate the strategy towards secure, sustainable, smart transportation.
"Access to technology testbeds such as the UMBRELLA IoT network provided by South Gloucestershire Council is invaluable to UK SMEs as it facilitates field testing that would otherwise be financially out of reach, and as such allows us to remain focused on product development and optimisation."
DIREK, based at the Surrey Research Centre in Guildford, will use their funding to continue developing A-I based technologies, which monitor and track activities indoors and outdoors. Their Smart Indoor Management System hopes to improve building management and energy efficiency.
Chief Technology Officer and co-founder, Amir Taba, said: "We're honoured to be selected for the first phase of the UMBRELLA competition. As a start-up, we have great expectations, and to be selected take us one step closer to achieving our dream to be recognised worldwide.
"DIREK's technology fills a void in the building management and automation industry, and we're working to bridge that gap for businesses and their employees."
UMBRELLA is one of the world's largest programmable 'Living Labs', connecting South Gloucestershire's five innovation hubs: Bristol & Bath Science Park, National Composites Centre at Emersons Green, the University of the West of England, Bristol Robotics Lab, and Future Space.
Entries for a second phase to the competition where another £125,000 in funding is available are currently being judged. Further winners will be announced later in the year.