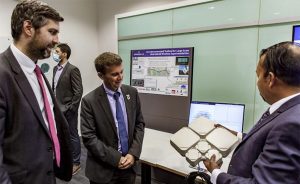 25th October 2021
South Gloucestershire Council and our lead technology partner Toshiba Europe Ltd, Bristol Research and Innovation Lab have launched the world's newest innovation network – UMBRELLA.
A UK and global first, UMBRELLA is an open, programmable, smart city and industrial internet of things (IoT) testbed. Essentially it is a powerful digital platform with connected sensors and processors that can be accessed from anywhere in the world with an internet connection, which provides an open development network with an endless range of potential applications and uses. Its aim is to provide an open platform for the testing and evaluation of innovation in areas such as robotics, wireless communication, smart city, and the general internet of things in a real-world environment.
UMBRELLA is one of the world's largest programmable industrial IoT testbeds, connecting South Gloucestershire's five innovation hubs: Bristol & Bath Science Park, National Composites Centre at Emersons Green, the University of the West of England, Bristol Robotics Lab, and Future Space.
As part of the network, more than 200 UMBRELLA IoT nodes have been deployed on public and private infrastructure (such as lamp posts), each with multiple radios (Bluetooth Low Energy, Wifi, LoRaWAN, and 4G) and multiple sensors available based on the needs of the user for researchers and businesses to utilise. The node is a modular unit that can be adapted to monitor a range of variables such as air quality, noise and light levels, which can be used and customised for many different industries. Over 100 of these nodes support Artificial Intelligence (AI) and Machine Learning at the edge of the network that allows for applications that are more responsive and secure than those that rely on the cloud alone.
UMBRELLA is promoting research, innovation, and real-world testing by providing access to all the essential state-of-the-art IoT enabling technologies in one place. UMBRELLA's easily accessible toolset enables users to develop a broad range of use cases in the future of mobility, zero-carbon technologies, healthcare, robotics, private 5G, and much more.
Innovation is a key driver of economic growth, our recovery, and future skill development. UMBRELLA is a major investment to encourage that spirit for creativity and invention across South Gloucestershire and our wider region. We are working together with users to deliver on our regional priorities and develop an inclusive and diverse ecosystem where innovation truly is for everyone.
UMBRELLA is already being used to address real-world challenges of:
Tackling air quality in urban areas using the UK's largest air quality network
Developing the robotics solutions of the future using a robot arena and a state-of-the-art digital twin
Testing IoT devices using a real-world environment
Enhancing warehouse and factory operations using private 5G networks.
The open UMBRELLA platform allows you to design and run experiments in real-world environments and progress your idea past the boundary of the lab and closer to the market. You can:
Connect to it from anywhere in the world with an internet connection
Collaborate with others to build and test complete solutions (multiple users can run experiments under a single shared project)
Run wireless experiments by uploading images and binaries to run wireless experiments to evaluate new IoT protocols and algorithms
Run robotic digital twins using the cloud-based digital twin environment which permits rapid evaluation and optimisation of robotic use-cases including customised emulation of the radio communications
Leverage a highly accurate (mm level) ground truth telemetry system for synchronisation of digital and physical worlds
Access data from over 1500 sensors, and experiment logs, both new and historic, for off-line analysis to develop new IoT applications and services.
Our world is becoming more and more connected, so societal challenges must now be addressed by sharing intelligence by a network of physical objects, systems, platforms, applications, and people.
Cllr Toby Savage, Leader of South Gloucestershire Council, said: "This is a world-first and we are very proud that it's here in South Gloucestershire. We have an incredibly strong heritage in innovation and manufacturing, world-class aerospace and defence industries, the birthplace for Concorde, and now its proud custodian at Aerospace Bristol. In recent years world-class clusters of innovation have developed in our Innovation Arc; like the Bristol and Bath Science Park, National Composite Centre, the Institute for Advanced Automotive Propulsion Systems (IAAPS) currently under construction, the Bristol Robotics Lab, Future Space, the National Academy of Health Science, and GKN Technology Centre. The UMBRELLA network has connected these individual innovation hubs into an impressive network that will further accelerate collaboration and innovation in the industries of tomorrow."
Dave Perry, Chief Executive Officer of South Gloucestershire Council, said: "As a trusted partner for businesses and citizens, we realized what was missing was a place where academia, start-ups, SME, business, and public organisations can combine and collaborate. Our vision for UMBRELLA was to create this bridge between lab development and commercial deployment to understand and address the societal challenges. This open platform for research and development is now a reality."
Professor Steven West CBE, Vice-Chancellor of the University of the West of England, said: "The University of West of England Bristol is delighted to have been a key partner in the UMBRELLA initiative, working alongside South Gloucestershire Council and Toshiba. The UMBRELLA project is the start of an incredible voyage of discovery and will take us to places we haven't yet imagined. UWE Bristol and Bristol Robotics Laboratory look forward to working with potential innovators, investors, and users to create opportunities to build a more sustainable inclusive future and develop solutions in challenging areas such as healthcare, cyber, AI, robotics, smart cities, and real-time traffic and air quality management. We are at the foothills of discovery, so let's collaborate to test our thoughts and ideas, and exploit the potential the UMBRELLA network offers to accelerate our understanding and shape a better future for all."
Professor Mahesh Sooriyabandara, Managing Director of Toshiba Europe Ltd, Bristol Research and Innovation Laboratory (BRIL), said: "As the lead technology partner of the UMBRELLA project, Toshiba took on the challenge of designing a solution to overcome the multi-disciplinary barrier of IoT solution development and testing. UMBRELLA is unique in its purpose and offering, which uses a distributed architecture that combines multiple innovative technologies to support multi-sector applications on a single platform. It is an IoT network, a testbed, and a collaboration platform. Most importantly, the UMBRELLA network is a partnership among a dedicated team of engineers and sector specialists with a diverse set of expertise who are passionate about accelerating IoT innovation to address real-world challenges."
Professor James Longhurst, Assistant Vice-Chancellor – Environment & Sustainability of University of West of England, said: "The University of the West of England has produced the Air Quality Use Case for UMBRELLA working in partnership with South Gloucestershire Council and Toshiba. UMBRELLA provides a dense, multi-pollutant, multi-layered, multi-location air quality monitoring network. It enables a wide range of new research, provides new opportunities for teaching, and is ready to support the commercial deployment of new monitoring technologies. For residents of South Gloucestershire, it will provide community public health information and will inform policy development for the Council. In addition, it will support the university's ambition for a Clean Air Zone on the Frenchay Campus."
Dan Norris, West of England Mayor, said: "From Brunel, to Concorde, to the present day, our region is amazing. We have always been home to the world's best engineers and innovators. Now local pioneers have a new tool to help tackle them some of the really big issues facing our planet including the climate emergency. The Internet of Things is already transforming our everyday lives with giant networks collecting and sharing data. We see it in our wearable fitness devices and smart heating systems. But now we are on the cusp of smart cities: parking spaces which can tell drivers when they are empty, and traffic lights that let an autonomous bus know how fast to drive so it doesn't ever have to stop at traffic lights. Industry will be revolutionised with flexible automation, making manufacturing cheaper. So too will healthcare. That's why this testbed matters because we need to know how useful these new ideas are, whether they are cost effective and really improve the quality of people's lives, always alongside appropriate safeguards to protect our personal data."
The UMBRELLA network has been built using funding from the West of England Local Enterprise Partnership (LEP) Local Growth Fund which is administered by the West of England Combined Authority, and Toshiba Europe Ltd – Bristol Research Innovation Lab.